Industry News
» 3M Designs Composite Spray Adhesive for Composite Production Application
The infusion molding industry has continued to extend beyond wind blade manufacturing. When preparing a resin infused composite, an adhesive used in the dry-layup must be compatible with the resins used, which is why 3M designed 3M Hi Tack Composite Spray Adhesive 71 specifically for these applications to allow the resins to work properly and yet still yield stronger composites.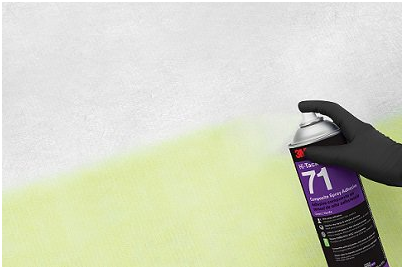 3M™ Hi-Tack Spray Adhesive's Features
3M's new spray adhesive features several important benefits for industrial, marine, transportation and composite manufacturers, including:
Quick-to-tack formula
Visual control and
Little to no intrusion during the resin infusion process.
Suited to the dry lay up in the resin infusion composite process
The specialized formula facilitates effective lay-up of fiber sheets with low soak-in for quick bonding times and turnarounds. 3M™ Hi Tack Spray Adhesive 71 is also built with high adhesive solids content, so the product lasts longer and less is required.
3M Adhesive's Applications
In addition to clear, the adhesive is also available in green, allowing operators to ensure the appropriate amount is applied.
The formula will work with most resin systems including polyester, vinyl ester, & epoxy.
This versatile adhesive also bonds fiber, fabric, wood, laminate, metal, and its strong tack is ideal for a variety of composite production applications.
Tim McNamara, US product marketer for 3M Spray Adhesives, said:
"Infusion molding applications require very specific adhesive attributes and compatibilities between the resin and adhesive. 3M Hi Tack Composite Spray Adhesive 71 is a great addition to our portfolio of spray adhesives because it offers little to no intrusion in the infusion process, which allows our customers to improve the strength of their final composites."