Free Matchmaking Service for You to Access the Excellent Suppliers.

---
Dear participant!

Improve an effectiveness of your participation at CHINA ADHESIVE 2023: start pre-arranging your meetings now and increase the amount of business contacts you need during event!
We are delighted to offer you CHINA ADHESIVE 2023 complimentary service MATCHMAKING.
The free to use MATCHMAKING at CHINA ADHESIVE 2023 aims to help you find the right individuals from relevant exhibitors and other visitor groups before the event starts. We hope you will make full use of this free tool to maximize your visit at the show and ensure you meet with all the right people for fulfilling your personal and business objectives.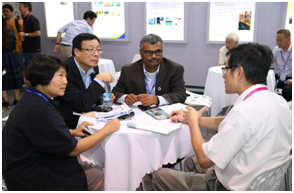 With Matchmaking you can:
u Easily find the most suitable meeting partners from lots of exhibitors and visitors
u Manage your time at the event better via a personalized calendar schedule
u Receive free reminders before each confirmed meeting after entering your phone number and email address into your profile

Please contact us

Tel: 86-10-84292986
Fax: 86-10-64205891
Email: zhouning@ccpitchem.org.cn
Event Website: www.chinaadhesive2000.com