Exhibition News
» Prefessional Adhesive Seminar——2017 China Adhesive Technical Seminar
The corresponding seminar ——China Adhesive Technical Seminar——provided more than 20 professional reports, which covered the analysis report of adhesive market, the application of adhesive products and raw materials, and new R&D achievements. For each report, there are averagely more than a hundred listeners.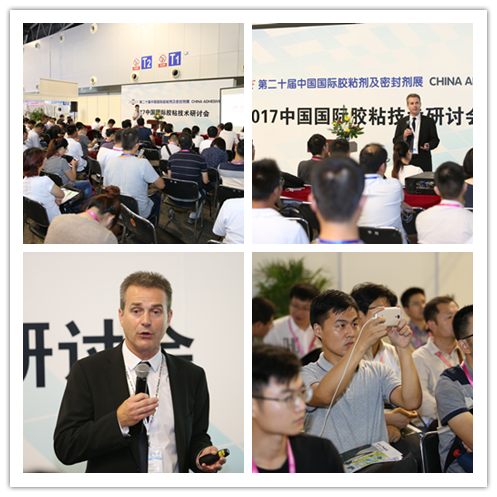 Speaker:
艾联产品中国
L&L Products of China
Emerald Kalama Chemical, LLC
毕克助剂(上海)有限公司
BYK Solutions (Shanghai) Co., Ltd.
上海华谊树脂有限公司
Shanghai Huayi Resins Co., Ltd
深圳市佳迪达新材料科技有限公司
SHENZHEN JIAIDA NEW MATERIAL TECHNOLOGY CO., LTD
十盛科技有限公司
Rheo Technology Co., Ltd
苏州瀚海新材料有限公司
Macroocean Materials Co.,Ltd
台湾永光化学工业股份有限公司
EVERLIGHT CHEMICAL INDUSTRIAL CORPORATION
泰州瑞洋立泰新材料科技有限公司
RISUN POLYMER COMPANY LIMITED
中国胶粘剂和胶粘带工业协会
China Adhesives and Tape Industry Association(CATIA)
中国石化集团四川维尼纶厂
Sinopec Sichuan Vinylon Works
钟渊化学
KANEKA CORPORATION



Looking forward to seeing you in Shanghai!
www.chinaadhesive2000.com