Industry News
» Adhesive Film Market to Reach USD 75.4 Bn by 2023 - MarketsandMarkets
The global adhesive film market is projected to grow from USD 57.2 billion in 2018 to USD 75.4 billion by 2023, at a CAGR of 5.7% between 2018 and 2023.

There has been wide acceptance of adhesive film in various industries such as packaging, automotive, electrical & electronics, construction, and others. This is expected to drive the growth of the adhesive film market.


Polypropylene (PP) Segment - Largest Share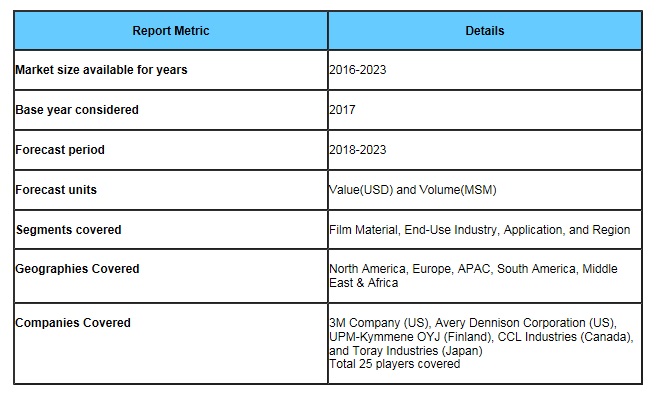 Scope of the report

The polypropylene (PP) segment is estimated to account for the largest share of the adhesive film market, by film material, during the forecast period.


Polypropylene
Polypropylene is a more versatile and cost-effective plastic than other thermo-forming and polyolefin materials.

Additionally, polypropylene is highly resistant to a wide variety of acids and solvent solutions with a temperature range up to 212°F.

Bi-axially oriented polypropylene (BOPP), a derivative of PP, is used in a variety of tape applications such as food packaging and multi-purpose packaging.

They have low hydrophilicity and do not allow printing by ink or wetting by adhesives.
Labels Segment - Fastest-growing Application of Adhesive Film Market

The self-adhesive labels market is growing in accordance with the growth trends of the converting and packaging industries. Factors such as increasing urban population, demand for pharmaceutical supplies, increasing consumer awareness, and growth of the e-commerce industry have propelled the growth of the global self-adhesive labels market.


Electrical & Electronics - Fastest-growing End-use Industry

Adhesive films are used in the electrical & electronics industry to hold down protective insulation wrap, warning labels, and information labels. Moreover, adhesive film-based tapes are used in the manufacture of many consumer electronics devices such as mobile phones and cameras. Increasing demand for such adhesive film-based tapes, labels, and graphic films in electrical & electronics applications is driving the growth of the adhesive film market.


Adhesive Film Market - Highest CAGR During the Forecast Period

The APAC adhesive film market is segmented as China, Japan, India, Indonesia, and the Rest of APAC. The APAC region is an emerging and lucrative market for adhesive films, owing to industrial development and improving economic conditions. This region constitutes, approximately, 61% of the world's population, resulting in the growth of the manufacturing and processing sectors.

Major players operating in the adhesive film market include 3M Company (US), Avery Dennison Corporation (US), UPM-Kymmene OYJ (Finland), CCL Industries (Canada), and Toray Industries (Japan), among others.

Source: MarketsandMarkets