Building Global Adhesive Industry Chain Platform,Leading Industry Transformation and Upgrading

倾力打造胶粘国际化全产业链平台,引领行业转型升级新浪潮!
---
CHINA ADHESIVE 2019 Was Successfully Held in Shanghai

The 22th China International Adhesives and Sealants Exhibition & the 14th China International PSA Tape and Label Expo (CHINA ADHESIVE 2019) had been successfully held in Shanghai New International Expo Centre in 18-20 September 2019.

CHINA ADHESIVE 2019 attracted 422 exhibitors including a majority of noted companies both at home and abroad. The number of visitors of this great industrial event reached 20495. Overseas visitors came from Korea, Japan, Thailand, Malaysia, India, USA, Iran, Indonesia, Russia and Brazil, concerned with 42 countries and areas.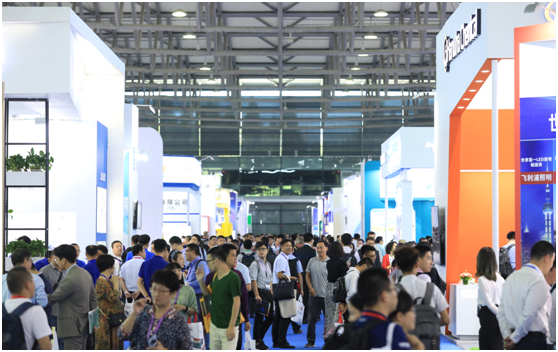 Click here to view the spot video of China Adhesive 2019!


Thank you again for your full support on CHINAADHESIVE! We warmly invite you to participate in CHINA ADHESIVE 2020,which will be held in Shanghai New International Expo Centre in September 16-18, 2020!

Job Function of Visitors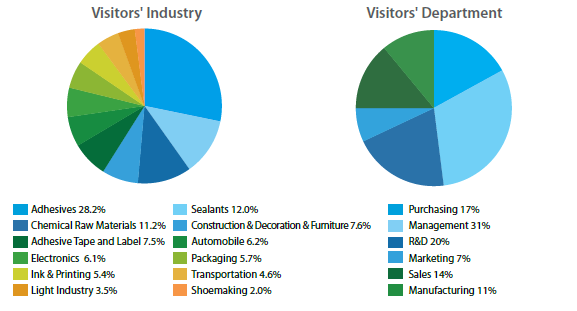 Attendee List (Part)
Hyundai Engineering Co., Ltd (Korea)

Huibei Xingfa Chemicals Group Co.,Ltd

Schneider Electric

Hitachi High-Technologies

Sika (China) Ltd.

Luxi Chemical Group Co.,Ltd.

Honeywell

Solvay

Armstrong Flooring

SYSTECH ELECTRONICS LTD

Bostik

SK Chemicals

Tokokosen Corporation

BYD

Roquette

Mess Muenchen

Mitsui Chemicals

Baiyun Chemical

Epson

Samsung Electronics

COFCO

GAZ Group(Russia)

VIGTEQNOS

Ter Chemical Limited

HUAWEI

Arkema

Elkem Silicones

North Electro-optics Group Co.,Ltd

General Motors Corporation

Xi'an Aerospace Chemical Propulsion

Co.,Ltd

Fangtai Kitchenware Co. , Ltd.

Mitsubishi Corporation

CRRC Nanjing Puzhen Co.,Ltd

Avery Dennison

Johnson and Johnson

Oriental Yuhong

Kiilto Oy

LG Electronics




International Association Delegations(Part)



Association of the European Adhesive & Sealant Industry (FEICA)

Adhesive and Sealant Council (ASC)

Korea Adhesive Industry Association(KAIA)

Japan Adhesive Industry Association(JAIA)

Taiwan Synthetic Resins & AdhesivesIndustrial Association (TSRAIA)










Exhibitors Survey
Chinese Exhibitors:357 (84.6%)

Overseas Exhibitors

:

65 (15.4%)

---
Organizers

CCPIT Sub-Council of Chemical Industry
Add: Bldg.16, Block 7, Hepingli, Beijing, 100013, China
Tel: 86 10-64275419, 84240485
Fax: 86 10-64205891
Email: cuijingjing@ccpitchem.org.cn, zhangpei@ccpitchem.org.cn
Website:www.chinaadhesive2000.com
China Adhesives and Tape Industry Association (CATIA)
Addr: Room B-2107, Tianyuangang Center, No.2, Dongsanhuan North Road, Chaoyang District, Beijing, China
Phone:86-10-87664843, 87667165
Fax:86-10-87663015
Website:www.cnaia.org
Email:xinxibu@cnaia-china.org, member@cnaia-china.org
Looking forward to seeing you in Shanghai!
www.chinaadhesive2000.com